Bytelabz can make your connection with customers more casual and intense through Social Media plate forms , thus creating a more loyal and engaging social media marketing for your business.It is time to take advantage of the social media marketing to engage with your customers. By using Bytelabz Social Media marketing services  you will be able to keep communicating with your customers in Social Media on a regular basis. This is essential to develop Social Media brand awareness and increased reputation in  Social Media. An intelligent exploitation of the social media marketing resources can generate impressive progress in your business.
We analyze the Social Media marketing of our clients. Our marketing analysts perform a step by step social media marketing process as per marketing Guidelines to achieve the best output for your business. Our Trivandrum and cochin Based Social Media team will always figures out what our clients need after the first round of discussion with them . This makes us stand out from most of the Most Professional Social Media Companies in Trivandrum and cochin . Our Expert Social Media Team focus on content which would always be Fresh & Unique.

Measurable & Meaningful
Engagement
Our social media marketing campaigns effectively bridge the gap between online users and brands, resulting in meaningful engagement and interaction. We analyze every element, assessing the quantity and quality of user engagement, as well as the bottom line impact of each interaction on your business.
Search Oriented
Social
With over 25% of mobile searches being conducted within social media platforms today, it is vital that your social content be optimized for search terms that will place your brand in front of an active audience at just the right moment. We proactively plan social content to anticipate search queries, user trends, and searcher intent.

The redevelopment of our corporate website was quickly recognized to be a daunting task. Bytelabz made the process painless and easy and had our web content and architecture written and planned out so that we could stay on our development target dates without any issues or stress. Not only was it all done quickly it was almost perfect the first time. We are very much looking forward to work with Bytelabz again on future projects.
Amanda Zimmerman
It has been a privilege to work with Bytelabz Solutions on our recent social media strategy. It is very rare to find out a company who delivers the requirements so quickly. The ability of Bytelabz social media team to understand our business goal is amazing within the limited time period they have delivered a huge amount of lead from social media. Now within few days we have double our business profit. I do not know how to thank Bytelabz Solution and the entire team members.
John Redmond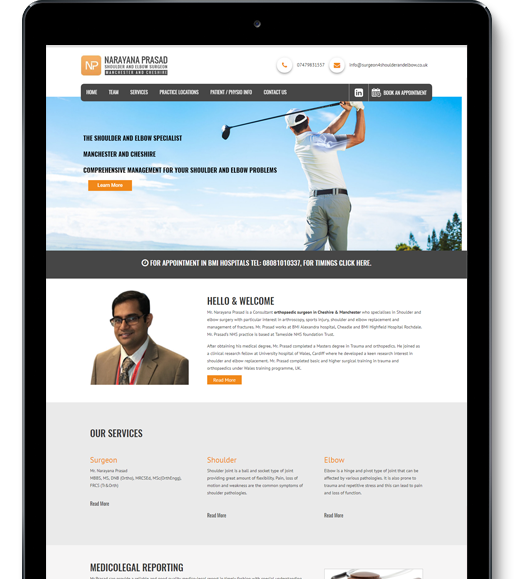 Social Media Case Study
Surgeon for Shouldder & Elboy
After the Design of the Website for Dr Narayana Prasad, he requested us to do an SEO campaign for his website http://surgeon4shoulderandelbow.co.uk/. The Keywords to be promoted where really competetive, but Bytelabz took it as a Challenge and promoted them, The Goal was to bring all the Keywords in the first page among the top 10 within 3 months.
99.51%

New Leads

1,700

Rank Positions

+48%

Site Engagement
What Makes Us
Unique
As a dedicated social media marketing provider in Trivandrum, we pride ourselves on staying on the forefront of social media marketing. Through our commitment to constant industry research and strategic development, we've maintained a reputation for excellence within the field.
Our Partner
Guarantee
We see ourselves as an extension of your team as a social media marketing provider. You'll never have to wonder about the status of your campaign because we'll beat you to the punch with data, updates, and results. Collaboration and proactive communication are at the foundation of every partnership and every successful campaign.