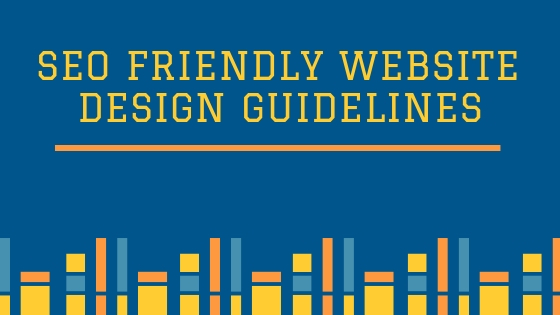 Website design and Search Engine Optimization are connected together in today's web-smart world. Web designers need to learn, that with the right kind of SEO they can do wonders for their website. Websites designed without SEO in mind can affect site ranking. If a website is not search engine friendly then it causes SERP ranking issues. If you consider some basic SEO principles and good content development practices then you can avoid this issues.
Here are some of the best SEO techniques that can lead you to a more search engine friendly web design.
1. Smart and Responsive Design
2. Design Your URLs for Search Friendliness
3. Optimized Images
4. Don't Neglect Image Alt Attributes
5. Quick Navigation menu
6. Website Speed Matters
7. Update Fresh and Unique Content
8. Use Heading Tags Properly
9.Creating Sitemaps
10.Limited Use of Flash
11.Be Careful With JavaScripts
Let's discuss each of the above points;
Smart and Responsive Design:-
Designing a website for multiple devices is called responsive web design. Responsive web design is one of the factors that Google recommended. SEO friendly website should be attractive, user-friendly and responsive. This type of design performs optimally on multiple devices like desktop, laptop, notepad and mobile. If your website looks eye-catching and responsive well with multiple devices, it is an absolute winner.SEO friendly responsive website has a single URL for both mobile and desktop. This way you can earn more backlinks. In this smartphone era, it is really useless to design a website that not responsive.
Design Your URLs for Search Friendliness:-
SEO friendly website needs a clear and logical URL. You should use keywords relevant to your business in URL.URL gives the idea about your website. Avoid long URL's and if your URL is ambiguous like www.domain.com/p?products-per-page=30, Google will not rate it as valuable. Also, the client does not prefer a link like this. If someone is looking for a web design company in Trivandrum, he or she would definitely prefer to click: https://bytelabz.com/web-designing/
Optimized Images:-
Image optimization means, reduce the size of the image as much as possible without sacrificing its quality. As the resulting image load faster and improves the site loading speed. If you are using the large image it takes more space in a web host and also make your site load slower. Image optimization is one of the main pillars of on-page SEO. To get a better rank in SERP, image optimization needs.
Don't Neglect Image Alt Attributes:-
Images can play a crucial part in how the client interprets a particular web page but search engine and other robots can't interpret images. Alt tags solve this issue, providing text which is read by the search engines. All images need descriptive alt tags search engines will read alt attributes and may take them into consideration when determining the relevancy of the page to the keywords a searcher queries. Outside of the SEO view, image alt attributes help users who cannot see images.
Quick Navigation menu:-
When it comes to websites, the navigation menu acts as a road map to all the different areas contained within the website. If the navigation menu is clear and helpful, the client will stay and have a good experience, which ultimately leads to more business for you. Make sure that the navigation menu of your website is not difficult for users. Quick and easy navigation menu for both users and search engines is essential. Navigation menu must helpful and functional. If your users can't figure out your navigation method, they will close your page and move on to another website.
Website Speed Matters:-
No one has time to wait for long for a webpage to open when they have the option to move to a competitor website. How fast your website open plays a crucial role not only in ranking but also improves the user experience. So make sure that your page loads fastly. If your website takes more than 4 seconds to load, 25% of your visitor will abandon your website. It means the speed of internet has made the users tolerate the long load time of websites. However, a good website is expected to load within 2 seconds. Factors which affect Your Website Load Time,
*Minimize HTTP Requests
*Reduce server response time
*Enable File, Page compression
*Enable browser caching
*Minify Resources
*Optimize images
*Optimize CSS Delivery
*Prioritize above-the-fold content
*Reduce the number of plugins you use on your site
*Reduce redirects
Update Fresh and Unique Content:-
Content is the life force of a website, and it is what the search engines feed on. When designing a website, makes sure you take into account good structure for content Use plain language, explain your acronyms/abbreviations and be as concise as possible. Clearly explain how things work and give people enough information to make good decisions. Be friendly, conversational and respectful, as if you were talking to a neighbour. Don't forget to include your keywords in content. Choose the focus keyword of the piece, and make sure it appears 3–4 times within the article body. Keep in mind that the appearance of the keyword shouldn't look forced, confuse the reader in any way. Also, the essence of the body shouldn't change after this step. If you have a blog update it regularly then comes greater crawling frequency by search engines as well.
Use Heading Tags Properly:-
H1 Tag or Header Tag have a great role in SEO. A good H1 tag is a good heading for the page. If a good heading encourages users to read further and stay on the page, this will benefit your SEO more than anything else. It is the place where we implement keyword. There must be only one h1 tag in one page.h1 tag should contain a primary keyword. Along with H1 Meta Tags are also important (Title and description), because they also affect SEO.H1 tags and Meta Tags are very useful for on-page optimization.
Creating Sitemaps:-
Sitemaps are called the map. Because they form a map of your website which helps to communicate with search engine better.SEO expert uses XML Sitemaps for better communication between website and search engine. While XHTML uses codes that allow your website element communicate to human visitors website.XML sitemap is the channel to search engine to understand all about your website. The sitemap uses an XML file to provide the list of URLs with metadata. So that Search engine bots easily crawl your website for new changes and updates. A sitemap is relevant for SEO performance and boosts Search engine ranking. Sitemap help to search engine to discover new pages on websites so that make page rank higher on search results. Don't forget to create a sitemap in your webpage.
Limited Use of Flash:-
Most of the search engines and devices do not respond to flash in a friendly manner. If you can, completely avoid the use of flash on an entire website. Do not apply flash to your text and navigation menu.
Be Careful With JavaScripts:-
With the help of JavaScripts, you can make an awesome website. But the problem lies with search engine crawlers, that may not recognize it and may not index it. So you make sure that you do not use JavaScripts for your entire website design. Another disadvantage is that JavaScripts do not work smoothly on mobile devices. You need to make sure the website is simple and easy to read for both users and search engines.
Currently, web designers have access to a lot of technology and choices. When you design a website, give priority to customers because this helps to determine SEO ranking. Search Engines are getting smarter and you don't have to think of them. You just design what will be good for users, and you do that honestly. If your content is good, in no time you will see the progress. Give us a call today and be connected with our Web Design company Trivandrum.
To know more important aspects of technical Seo including duplicate content, meta descriptions, HTML ratio and many more please visit this link: https://ignitevisibility.com/technical-seo/