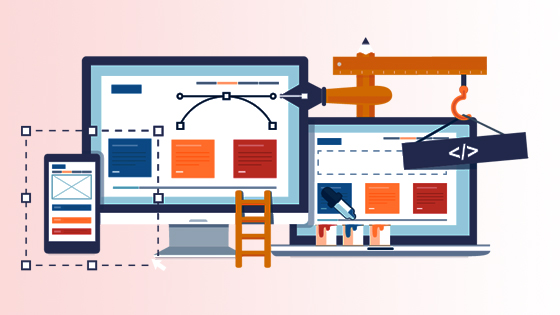 Your website is an important part of your work and business journey, in fact, it's one of the most important just like any other part of your business. Whether you have a mom and pop shop or are thinking about opening one or want to stay completely online, creating a memorable online shopping experience for your customers is crucial.
In the fast-changing and innovating world of today, It's not enough to have a nice-to-look-at website. If you want your customers to trust your site for shopping, it must have the functionality, design, and capability to create that noteworthy experience that customers expect from brands.
The difference between customers making a purchase or moving on to another brand depends on how well your eCommerce site is built.
Your e-commerce store should not only be cost-effective but also easy for your customers to navigate and above all, it should be capable of leaving a great and long-lasting impression on them. Now the question arises that with so many eCommerce website builders out there how are we supposed to know which one is right for our business. Investing in the right builder is the first step to doing what's right for your business and help it grow. Selecting a platform that can scale with you will help reduce friction between your customers and your products, and bulk up your bottom line.
Benefits of having an e-commerce website
An e-commerce store is a must-have to increase sales, improve your customer journey, and to grow your online presence. That's where online store builders become useful as they make it simple to create the perfect shopping experience for your customers. However, that doesn't imply that all online store builders are created equally. The options may vary for your business depending on where you're at and what you need.
Here are some of the businesses that would largely benefit from using an e-commerce website builder.
1. New businesses.
If you're just starting out and are looking for ways to cut costs without compromising on function, quality, and performance, using an online store builder to help shape your website is a great option.
2. Growing startups.
Startups can't afford to waste any time or valuable resources on things that aren't going to help them grow. Ecommerce store builders provide both a platform to grow along with the features startups need to showcase their product. Additionally, the countless app integrations that are instantly compatible with your store make it work smarter for you. It helps your online store builder become a part of the team and will help propel the company forward if given the opportunity to do so.
3. Part-time work sites.
Even if you're running an eCommerce business as a hobby or part-time, it doesn't mean it's unworthy of sleek, simplified shopping experience.
These builders offer convenience without skimping on quality. You can make adjustments whenever and however you see fit so your shop works best for you and your customers. Using an online store builder gives you the flexibility to create the shop you want even if you don't necessarily have an eye for design or know how to code.
4. Dropshipping sites.
To successfully build and run drop-shipping business, you'll need to build a store that is compatible with that business model.
Because you're not managing your inventory and working with a wholesaler to purchase products, you need a unique solution that can help you do just that.
How to choose the Best Ecommerce Site Builder
The market is full of choices for e-commerce website builders, but not all of them will have exactly what you need. When choosing a platform, you have to think about your business goals, your product, and what is practical for you to manage.
Before choosing any option, consider the following points.
Pricing can be a major factor when it comes to e-commerce site builders, so you'll need to consider how the platform's monthly or annual pricing structure works with your budget. It's a good idea to look for a platform with different packages so you can scale up your business and add more functionality as your needs evolve over time.

The time frame of your site depends on whether you require custom build-outs or developer work because in that case, you'll need to consider the timeline for every work, as sometimes developer work can require several weeks or even months for proper execution. Make sure that your back-end work and site build-out will be wrapped up well before your launch date so you're not scrambling at the last minute.

Explore the templates available on the eCommerce site builder you're considering to be sure there are options there that you could see your brand using. If you don't like the options the site currently has available, you may need to have a custom theme developed for your online store, which can be more expensive and time-intensive.

Integrations help you save time and simplify the complexities around running your online business, so be sure the eCommerce site builder you're considering ties in with the software and tools you depend on. That means you'll want to double-check that your tools around logistics, customer data, payments gateway, email marketing, etc. will integrate seamlessly with the eCommerce platform you choose.

As you build your store, you'll want to be sure there are strong support options like customer care, chatbots or mails available to you that will make the process as easy as possible. There's nothing worse than needing help and not being able to get any answers. Explore the site builder's support settings and see what general resources are available.

If you're not looking to hire a developer to help you build out custom elements of your online store, you'll need to be sure the eCommerce site builder you select lets you do everything you need it to all on your own.

Top E-commerce Website Builders

Before considering a website builder it is important to know about researching the solution that best fits your needs and how it can make a big difference in the way you run your business. Once you have an idea of what makes an eCommerce store builder great, you need to take a look at the pros and cons of the top builders and put together a shortlist of the options that make the most sense for you.

BigCommerce

BigCommerce is one of the largest eCommerce platforms on the market. BigCommerce provides business owners with the tools needed to run a successful business.

WooCommerce

WooCommerce is an eCommerce store builder designed to work seamlessly with WordPress. This platform provides business owners with what they need to grow their business and strengthen their bottom line.

Shopify

Despite it working outside the WordPress realm, it's worth including Shopify on this list.

Squarespace

Squarespace is an integrated platform that's widely used by businesses of all kinds, but mainly by creatives and artists. This builder is great for portfolio building and blogging, but it also offers notable eCommerce tools that can help businesses grow.

Kibo

Kibo provides advanced eCommerce tools perfect for teams who choose to spearhead the design and building of the store themselves rather than starting with a template.

Wix

Wix is a great option for those who are looking for an entirely customizable eCommerce store solution. This platform blends the ease of a drag-and-drop builder with powerful eCommerce features.

Volusion

Volusion is a comprehensive eCommerce store builder. New business owners can customize their storefront to fit their brand and start selling in minutes.

BigCartel

BigCartel is a unique eCommerce platform designed for smaller merchants or artists who do not need a sophisticated platform. But don't mistake simplicity for a lack of features.

Magento

Has your company already invested heavily in IT or development? If so, Magento might be the platform for you.

3dcart

3dcart's all-inclusive eCommerce store software can help business owners elevate their presence. This platform is excellent for businesses that use several tools to power their eCommerce store.

PrestaShop

PrestaShop is an eCommerce store builder that caters to business owners who are interested in implementing a cloud-based solution. It gives you the option to customize your shop in the exact way you'd like—whether that's with an editable theme or with the help of a specialist to build your store for you.

Weebly

With more than 50 million websites built, Weebly is a drag-and-drop website builder with 40+ mobile-friendly themes. In 2018, Weebly was acquired by Square.

Advantages of Best Web Site Builder

There are quite a few reputable eCommerce store builders to choose from.
Some require no knowledge of website development or coding and others require a broad understanding of the technical elements that make up a website—not to mention a functioning eCommerce store.

1. Easy to use.

You should be able to make changes to your store on your own time and as you require. Development teams are a major expense that not all businesses can afford to have, which is why selecting a store builder that you can use is equally important as it is necessary.


2. A variety of useful features.

You want a platform that will help you achieve your goals. Picking a builder that has the right tools you need to grow your business will make a significant impact.


3. Beautiful templates.

Just because you aren't familiar with HTML and CSS or don't have a development team at the ready to create a brilliant website doesn't mean you don't deserve one. Most eCommerce store builders have a variety of stunning themes to choose from and are categorized by function or industry.


4. A reasonable price point.

You want to make an investment but you also want to be mindful of your budget and the additional monthly costs an eCommerce store incurs.
Choosing a builder that has everything you need without hitting the budget is the goal.

5. Secure systems for payments.

Your customers want to feel like their information—whether it be their credit card number or their mailing address—is secure while making a purchase. Be sure to select a builder that not only offers safe payment systems but offers customers multiple ways to pay.


Summary

There are countless eCommerce tools available today and building a successful online business has never been more easily accessible.
Whether you're selling services or products, your venture needs a website. But with so many options to choose from, it can be confusing to settle on the platform that works best for your business. Overall, website builders are great for beginners or small businesses.