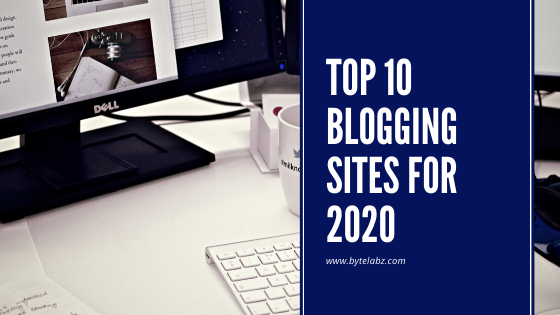 A lot of people especially writing enthusiasts prefer to write a blog these days instead of keeping a notebook. It's easy, convenient and is not limited to your study table.
You can easily practice your writing, correct, rewrite or publish them whenever you want, create followers, establish your brand or use blogging as a marketing tool to increase website traffic. It's also a great way to connect with like-minded people.
But, you need to know how to choose the site for building your blog.
There's a wide choice of blogging platforms. The more choices we have, the harder it becomes to find the right one.
Before choosing the right blogging platform for yourself, you need to know about what to look for in a blogging platform. Hence, it will then become easier for you to find out which one is best suited for your requirements.
Tips For finding the best blogging platform
For making a decision, it is better to know what you are searching for. Below mentioned are some criteria to judge a blogging platform:
Starter friendly:– To start you need a blogging solution that is easy to set up, manage and not so highly codified. They should also be able to find support when you run into trouble.
Budget:– It's important that your blogging platform of choice fits within your budget and worth what you also get for. Almost every blog platform has a free option or a free trial period hence it becomes important that a free offer is worth nothing if it doesn't do what you need.
Features and Flexibility:– In-built features like social media plug-ins or compatibility with third-party apps can be handy ones which could enhance the popularity of your blog. You might also want to modify or overhaul the design, add features, or make other drastic changes as over time your requirements for your site will change. A good blogging platform should be compatible with that.
Consistency:–It should take care of most of the activities and features for you instead of you having to do everything by hand. If not then it will become an ordeal for you to maintain your blog.
Monetization benefits:– Most people start a blog or website to earn money with it. If that is your objective as well, you better choose a platform that enables you to do that in a way that works for you.
The scoring of the factors above will be different depending on your goals and requirements.
Here is a comparison of some of the best blogging platforms out in the market.
Best Blog Sites in 2020
The self-hosting version of WordPress is the most popular blogging platform in the world among all the best blog sites. Its influence and penetration is around 30 percent of the entire market.
Pros:-
It consists of thousands of mobile compatible themes that allow you to switch the design of your blog as per your requirements.
WordPress gives you full control over every function of your site.
The WordPress directory has over 50,000 plugins which can be used to add various functionalities and extensions to the site.
The platform is highly responsive, search engine friendly and well-aligned with social media.
It provides full ownership of your content.
Its large community and customer care gives lots of support options.
Cons:-
In spite of being beginner-friendly, running your WordPress website does require some technical knowledge.
You are responsible for site maintenance including backups, security, and performance.
However, you can use outsourcing option to WordPress hosting providers.
Pricing:-
WordPress is an open-source solution which means it's free to use although self-hosted variety requires you to find a hosting provider. You also need a domain. This can cost you around 40-50$ per year.
Also, you might end up spending money on many plugins and themes that add more flexibility to your blog.
It is suitable for:-
Freelancers
Professional bloggers
Business blogs
E-commerce websites
Online businesses
Wix allows you to put together your web presence via drag and drop and comes with blogging ability that you can add to your site.
Pros:-
Quick and easy setup, includes top-level hosting.
Easy to customize the template.
You can achieve everything using the graphical interface without knowing
any coding skills.
Variety of design options.
Every design built with HTML5.
Has an AI feature to automatically design your blog.
Lots of free stock images.
Cons:-
Not allowed to change your site template after choosing it.
A free account has some limitations.
The number of free apps is limited.
It doesn't fully support e-commerce, even on paid plans.
The service charges for many things so costs are high.
Not allowed to move your site elsewhere and take your content with you.
Pricing:-
Wix offers different subscription-based packages. Their plans start at $5 monthly for 1GB bandwidth and 500MB storage with the ability to connect to a custom domain which you need to purchase on your own.
Higher plans add more bandwidth and storage, free domains, apps with the ability to create an online store and remove the ads. The highest plan of $25/month also comes with VIP support.
Perfect for:-
People who are new to website development
Creative artists
Businessmen who need a blog with a website
It is another open-source content management system that you can use to build all kinds of websites.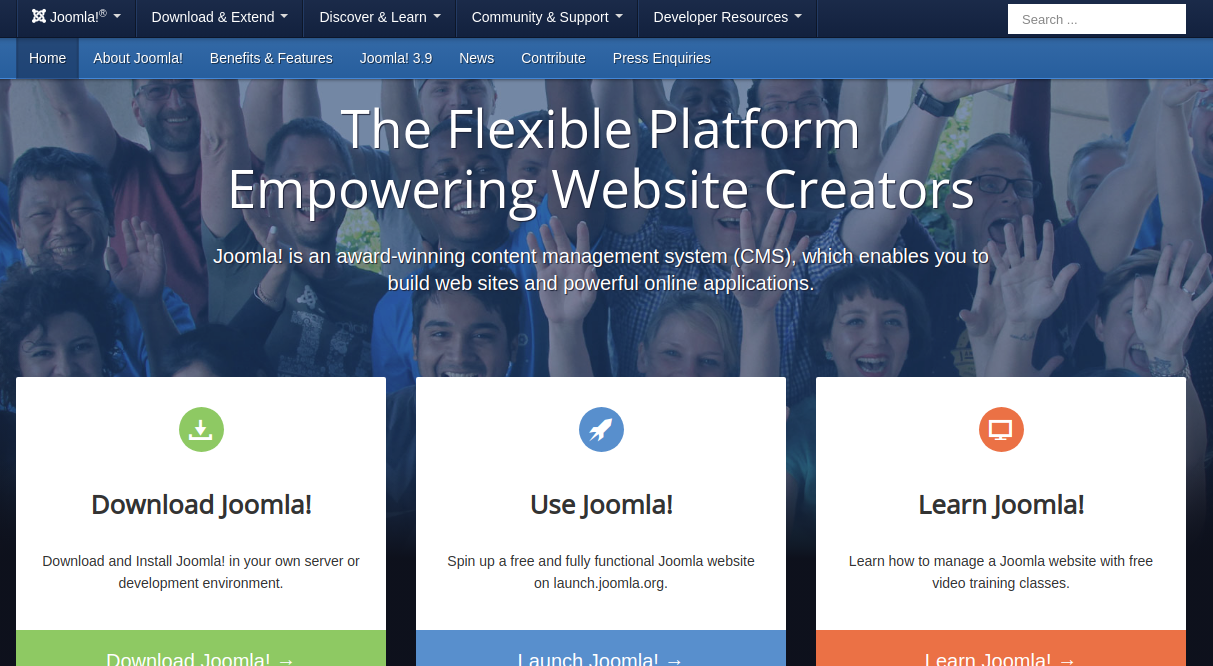 Pros:-
Lots of extensions are available.
Powerful and flexible blog platform. It is suitable for a website more than a blog.
Different kinds of professional website templates are available.
Cons:-
Basic knowledge of HTML and CSS is necessary.
Highly technical processes.
The responsibility for security, backups, and performance is on you along with the option to avail Joomla managed hosting.
Pricing:-
Joomla is free to download and costs only incur for hosting and a domain.
Suitable for:-
Business websites
Online stores
IT professionals
Technical personnel
The most commonly used blog or website platform is wordpress.com. Free version of it is available with basic features. For advanced features, we need to pay.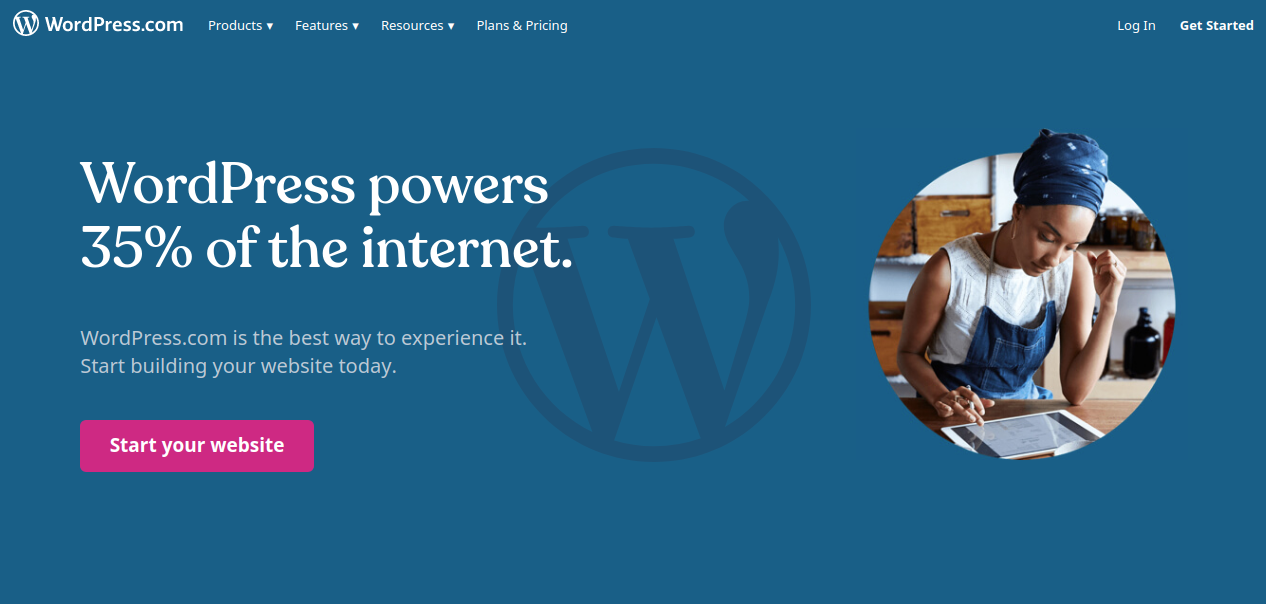 Pros:-
Easy to set up – just create an account and follow the installation wizard
Hosting is automated here.
Site maintenance is comparatively easy.
For paid plans, we can get professional and dedicated support.
Cons:-
Free account has less features.
The site domain name is a subdomain of WordPress in the free version.
It is possible to lose your site if you violate the terms and services of the platform.
Pricing:-
Paid plans cost between $4 and $25 per month (billed annually). Each tier increases the amount of storage space, features (including monetization options) and support.
With the Business plan, you can install external plugins and themes and connect your site to Google Analytics.
Perfect for:-
Hobby bloggers
Presentational websites
Medium is a popular blog posting platform. Medium is a favorite publishing platform among writers, bloggers, and journalists.
Medium is not only a blog posting platform but also it has some limited features of social media sites. We can comment and like our competitor's blogs.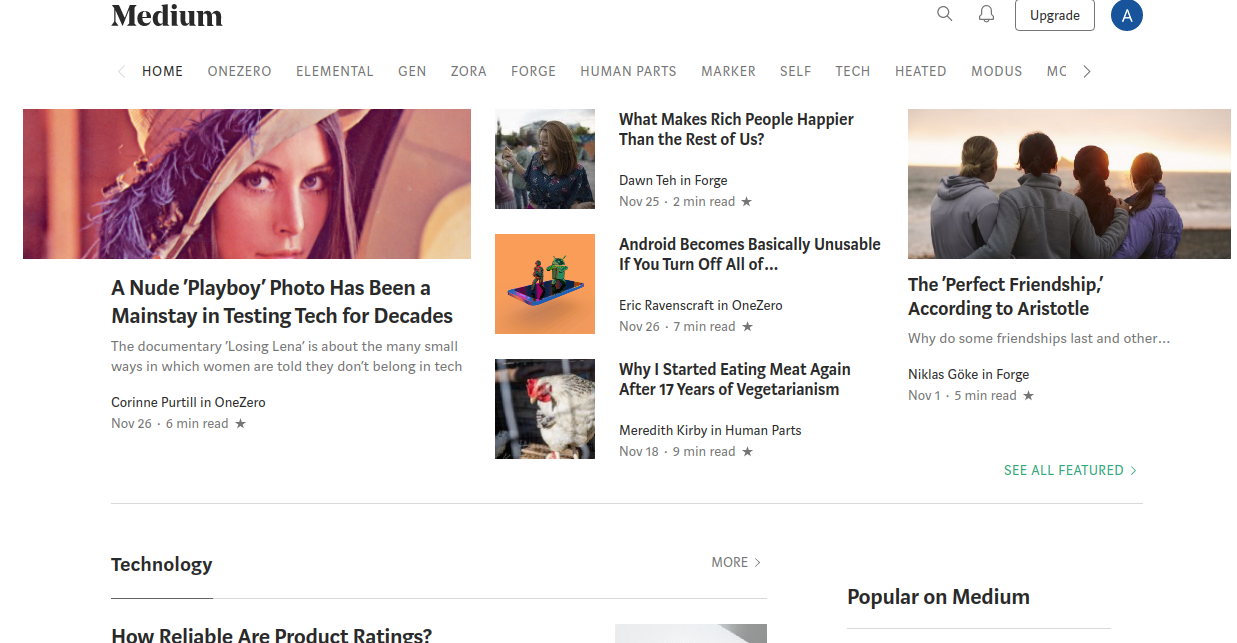 Pros:-
For blog posting just need a signup.
The user interface and writing experience are awesome.
Content is more important than the design structure.
content embed from other services is available ( like Twitter, Tumblr, etc).
Cons:-
All blogs look like the same, we can't customize designs.
Very limited marketing features.
No way to transfer your audience from Medium to any other platform.
Monetization options are absent.
Medium has control over your content.
Pricing:-
This blogging platform is absolutely free.
Perfect for:-
Writers
Hobby bloggers
Content Markers
This is a publishing platform focused only on blogging. The idea was to make a more streamlined and modern version of WordPress.
As a consequence, the platform is built on JavaScript. It's also available for a hosted or self-hosted version.
Pros:-
Focus on writing and blogging.
Clean, intuitive, streamlined user interface.
Live preview of blog posts.
High speed because it is built on JavaScript.
The hosted version requires no setup.
SEO and social media capabilities are built-in.
Integrated function for Accelerated Mobile Pages
Cons:-
Not easy to customize.
Limited configuration and customization options.
The number of themes is narrow.
The ghost's self-hosted version is complicated to set up.
Pricing:-
The price for the hosted version depends on the number of websites and the amount of traffic. For $29/month you get one blog and 50,000 monthly page views. This also includes SSL encryption.
The most expensive plan is $249/month ($199/month paid annually). The ghost has prioritized support, uptime guarantee, and other premium features. All plans come with a custom domain.
For the self-hosted version, you need to pay the usual hosting plus the domain registration.
Perfect for:-
Bloggers who are happy to experiment with the newest technical solutions
Squarespace is a drag-and-drop website builder which is aimed at small business owners. It's a great all-in-one solution for non-technical people and offers hosting, domain registration, and the possibility for e-commerce.
It also has blogging capabilities which are the reason why it's among the best blog sites out there.
Pros:-
Simple to use and beginner-friendly.
Professional design templates are available.
SSL encryption is built into the platform.
Ability to build an online store.
Free trial to test-drive the platform.
Includes hosting and a custom domain.
24/7 customer support.
Cons:-
Users are limited to the features that Squarespace offers.
Integrates only with a few third-party services and tools.
A personal plan is limited to 20 pages and two contributors.
Slightly overpowered if all you want is a blog.
Pricing:-
Squarespace is subscription-based. It comes with only two plans: Personal and Business. One is $16/month and the other $26/month. You get a discount and a free custom domain if you pay annually.
Both plans come with unlimited pages, bandwidth, and storage. The Business plan also has e-commerce, marketing features, and allows you to customize your design through CSS and JavaScript. You can use your domain name, which comes with extra costs. There is a 14-day free trial to test the waters.
Perfect for:-
Business owners
Portfolio websites
E-commerce
Weebly is another site builder with a modular approach and a web-based interface. Pick a template and position your content as blocks in different areas.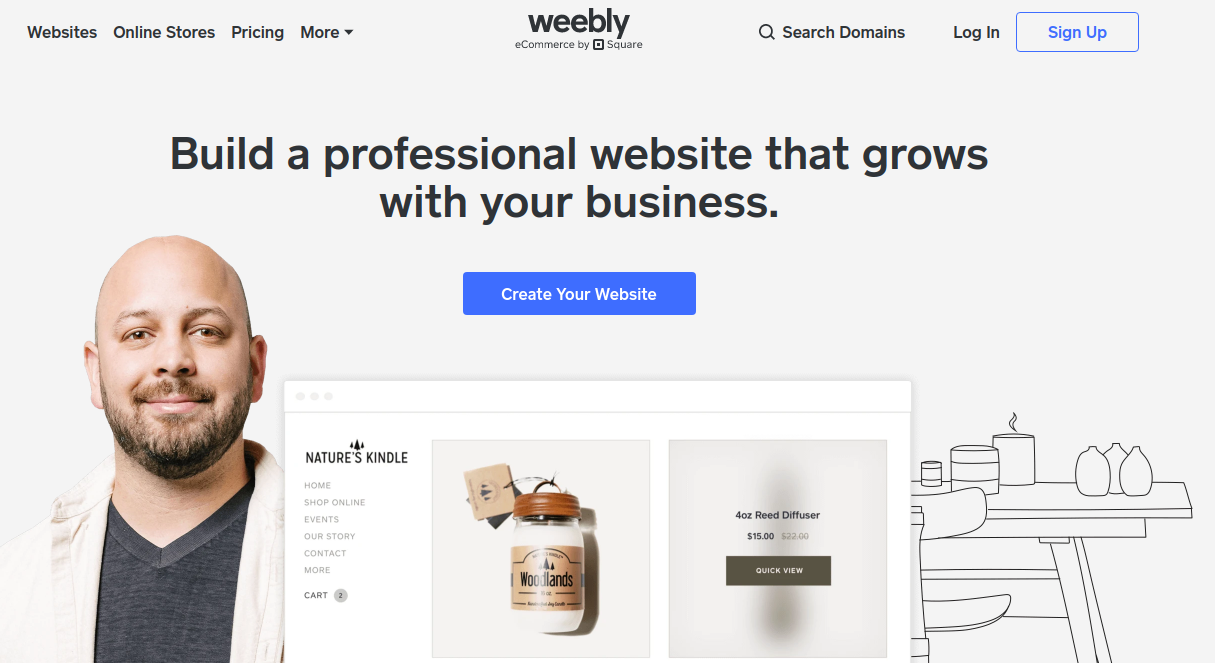 Pros:-
Easy to use – everything is operated via drag-and-drop.
Comes with decent mobile apps to run your site on the go.
You can try out the service before committing financially.
Has a good reputation in terms of SEO, even integrates with Google Analytics.
Cons:-
Limited integrated features and no possibility to add more.
The free plan only comes with 500MB of storage, Weebly branding, and a subdomain
Integrates with only a few third-party platforms.
Exporting your site is difficult.
Pricing:-
You can start with a free account. After that, $5/month gets you a custom domain. For advanced features like site stats, video backgrounds, or membership options, you need to go for one of the higher plans.
Those come in at $12-$25/month. Weebly also has separate plans for online stores that are slightly more pricey. All plans are paid annually.
Perfect for:-
Business owners who need blogging capability.
Online portfolios.
Bloggers without technical knowledge.
This free blog hosting service has been around for a long time. It was founded in 1999 and acquired by Google in 2003. As a consequence, you can sign up easily with your existing Google account.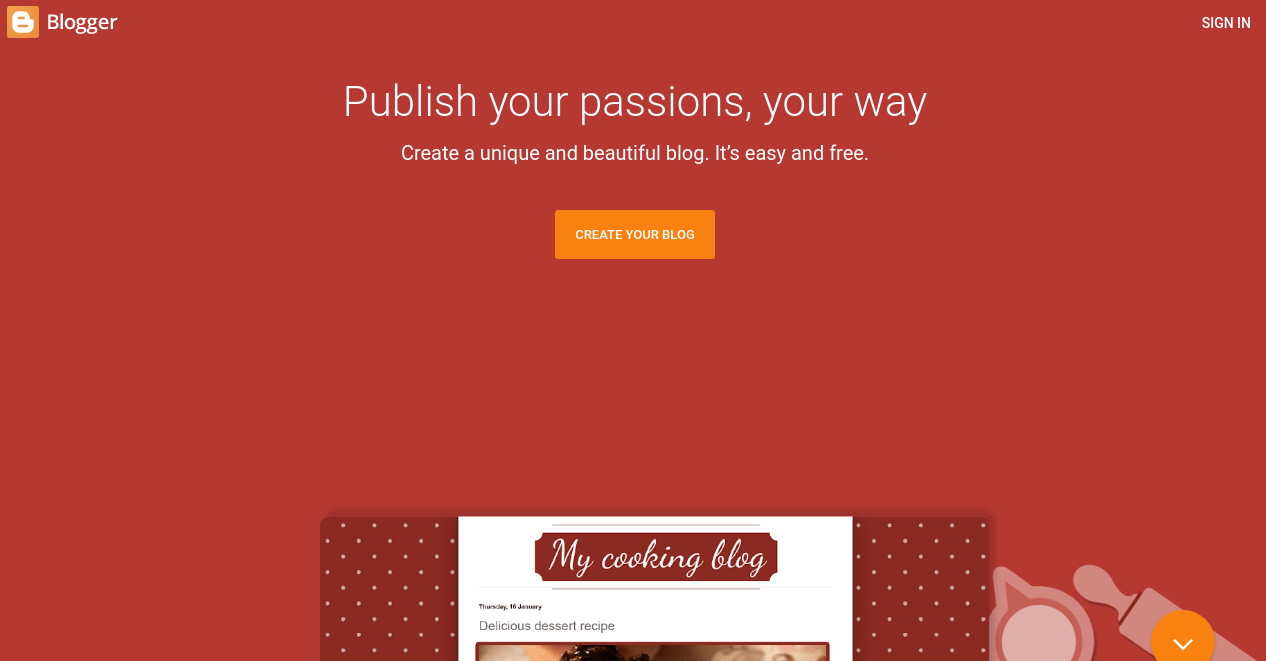 Pros:-
Free to use and the set up only takes minutes.
Hosting, maintenance, and other technicalities are taken care of.
Integrates well with other Google apps (e.g., you can store your images on Google Drive).
Has a mobile app version with which you can manage your blog while on the move.
Mobile-optimized templates.
Comes with tracking and anti-comment spam measures.
Cons:-
Limited to basic blogging tools and there is no way to add additional features.
Design options are few.
Updates or new features are scarce.
Blogger displays advertisements on your blog.
Pricing:-
Blogger is completely free. The only cost you might incur is if you want to use a custom domain. In that case, you have to acquire and pay for it yourself.
Perfect for:-
Hobby bloggers and personal blogging
The final entry for the best blog sites is Tumblr. The service is a micro-blogging platform optimized for short-form content.
It also has a community behind it and social network features. Think of it as a middle ground between WordPress and Twitter.

Pros:-
Free and very easy to set up and use.
Hosting is included (your blog is located on a tumblr.com subdomain).
Has integrated social features such as following, re-blogging and sharing.
Easy to publish multimedia e.g. videos, GIFs, images, and audio.
Many design opportunities and they are easy to change.
Cons:-
Limited features and no way to extend them.
It's difficult to back up your Tumblr content and use it on other platforms.
Pricing:-
The platform is free to use. Optional costs are for a custom domain (which you can map to your Tumblr account) and third-party themes and apps.
Perfect for:-
Hobby bloggers
Personal blogging
Micro-blogs
Best Blog Sites – What's Your Pick?
When looking for the best blogging platform, you have many platforms to consider. Each comes with its pros and cons. There are three varieties: self-hosted blogging platforms, hosted blog sites, and website builders that also have blogging capabilities.
The most suitable for you will depend on your needs, goals, choices, and preferences. Hence, if you are looking for a long term association with your blog or website then you need to study all the factors before choosing a platform or you might end up creating nothing more than a 'content junk' on the internet.