With the rise of social networks, it is no surprise that spending on social media marketing has continued to grow every year. Social media marketing is an aspect of digital marketing that has grown in leaps and bounds over the last few years. More business entities are waking up to the benefits of having a strong presence in the circles where more than 70% of the world's internet users are present most of the time.
As per the statistics, in the period between 2016 and 2020, the spending jumped by nearly 100%. Social media allows brands to create stronger relationships with their target audience, ensure better customer service, and increase brand-consumer engagement. It is also one of the best platforms to use when you need to spread the word about new products and services or promotions and more.
Do you want to get started with your social media marketing? You need to know what is right and what isn't for achieving the best results as we get them covered in this article.
Do's in Social Media Marketing
Finding the Relevant Networks
There are many social media platforms in the world today. However, you don't need to maintain a presence on all of them. Find platforms that are relevant to your business and focus on them. A strong presence on Facebook, Instagram, and Twitter is usually a good idea for most businesses. If you are in the B2B model, however, you can skip Instagram for LinkedIn.
Additionally, maintaining only two to three social media profiles ensures you won't overstretch yourself in the course of managing your profiles. If the quality or consistency of your content changes, your target audience will notice.
Use Content that Works on the Platform
Facebook is the one social media platform where most types of content can work. For others, however, you need to use content that works. On Twitter, for example, you can only share short texts. Even when you want to create a Twitter thread, the content has to be broken up into short texts. If you have a LinkedIn profile, deeper storytelling works. Similarly, Instagram users only ever want to see images and short videos.
Plan well in advance before posting
Your business social media profiles should never look like an in-the-making project. Fill out all the necessary details and make sure there is regular activity on your accounts at all times. Your social media names, handles, cover photos, and profile pictures should also reflect your brand. This will help you to attract more engagement while maintaining ingenuity and credibility.
Stay Consistent to Your Brand Message
Your business social media profile is an extension of your brand. You need to ensure consistency in your branding at all levels. From the tone of your content to the type of content you share, there has to be connectivity; otherwise, you will confuse your audience at best, or alienate them in worst-case scenarios or even end up reaching the wrong audience.
And most importantly you need to keep all personal content or opinions away from your business social media page. That's why you have a personal page. Mixing things up is a problem which is a common case with many beginners.
Create New Relationships
The world of social media is endless. This can be put to good use by actively establishing new relationships while maintaining existing ones. One of the best ways to achieve this is to watch out for mentions of your brand and responding to them.
More than 90% of people that discuss a brand on social media do not follow these brand's profiles. You need to actively seek out your customers and prospects and engage them. You can use social listening tools to find all relevant mentions of your business.
If your brand is not quite as popular yet, you can use social listening tools to find people with problems that you can solve and offer to help them solve it. Social media is a two-way street, and regular interaction with your audience ensures you are doing your bit and getting noticed at the same time.
Entertain and Inform
If your social media posts are entertaining and informing you stand a better chance of success with your social media marketing campaigns. Social media users are less receptive to overly seller content. This is why only 10% of your posts should be about sales.
Use Visuals as Much as Possible
Even outside Instagram, social media users love to see pictures and videos. On Twitter, known for quick conversations, Tweets with images get 150% more retweets, 89% more likes and earn 18% more clicks.
Even if your business is not visual-heavy, creating as much visual content as possible for your social media platforms is a sure way to ramp up the engagements.
Give Credit to Content Owners
Sharing content from thought-leaders relevant to your niche is one way to generate content for your social media profile. However, it is important to give credit to the owners. Never pass off content as yours or your brand's reputation will be damaged in the inevitable back and forth that will ensue when you are called out.
Stay Positive
Social media users support the brands which diffuse hairy situations calmly. For example, 45% of people will speak positively about a brand if their complaints are addressed. By not responding to aggression with even more aggression, you will quietly build up a loyal following while increasing the popularity of your brand.
When you don't have negative issues to defuse, seek out positive comments about your brand and amplify them. If you can't find any on the social media platform, share reviews from your email or website.
Use Automation
In the early days of your business, you may get away with manually handling your social media process. As your audience grows, however, you'll need to automate elements like publishing new posts, finding new brand mentions and more. Fortunately, there are lots of social media marketing tools on the web to choose from when you are ready!
Don'ts in Social Media Marketing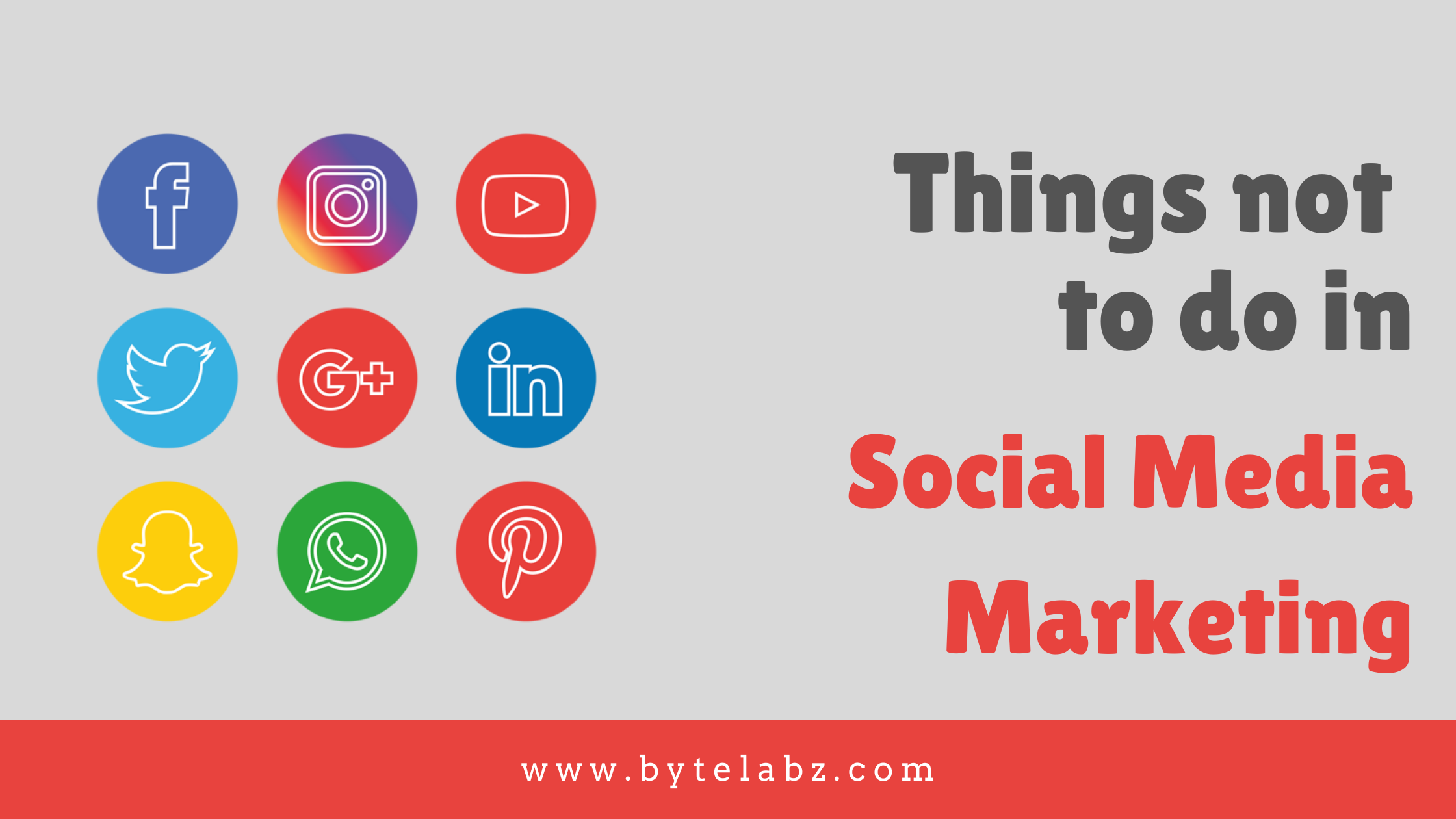 Poor Language Skills
If you create content with lots of poor grammatical errors and spelling you are harming the credibility of your brand. If you don't trust your language skills its better to hire an editor to proofread your content before they go public.
Similarly, avoid habits that are generally frowned at on social media such as posting in CAPITAL letters or using profanities.
Begging for Likes, Followers, Retweets, etc.
This is a low-quality strategy that is popular among small business owners. If you project your brand as needy, it calls into question your professionalism. You can organically earn followers or shares by offering value and staying authentic. If you need to generate some traction over a short period, you can consider using techniques such as organizing competitions or giveaways with interesting prizes to be won in the end.
Spamming
If you join social media groups with the sole aim of posting promotional content about your business, this is spamming. It will earn you a block in many cases and will paint your brand in a negative light. In the same vein, targeting followers that are not your ideal audience just for the sake of growing your audience is counter-productive as you will end up with thousands of followers that won't care about your content.
Oversharing
For a business social media profile, you need to work out the right number of times to post content each day. If you share a lot of content, your followers will gradually begin to mentally tune-off your content. If you share too little, you may be forgotten. Balance is important. You can aim for 5-7 tweets per day and 1-2 posts on Instagram and Facebook. If your business is such that frequent updates are part and parcel of your mode of operation, then this doesn't apply. Your audience will expect regular content naturally.
Hashtag Wars
This is a behavior that is common on Instagram. Hashtags are useful to make posts discoverable. When you turn every post into a hashtag soup, however, you are ruining the user experience for your audience as they will find it difficult to read your content. This approach also means you are wasting hashtag real estate that could have gone to keywords that will make your brand more discoverable.
A good tip for posting hashtags on Instagram is to put them well away from your captions, or in the first comment position. The post will still come up in relevant searches.
Deceit
More than 60% of cases of customer-brand disputes on social media is a result of dishonesty on the part of the brand. Don't lie about your products and services. You will be found out sooner or later and you may never recover from the impact of the confrontation. Many people that tried this have had to close down their social media profiles and websites to start all over again.
Sharing Content without Due Diligence
Before sharing that bit of statistics with your followers better find out if it is true. Social media today, is awash with fake news, propaganda and intentional misinformation. You don't want to be caught as a brand that cannot distinguish between real and fake content. Always verify the authenticity of any claims.
Being overconfident
If you are a genius that knows everything, keep it to your personal social profiles. Arrogance, condescension, and underhanded-compliments do not have any place on your business social media profiles.
In a nutshell
Social media platforms offer marketers the opportunity to connect with existing customers while cultivating new relationships with prospects. However, you need to do things correctly. The social media community is highly perceptive and will not hesitate to block or black-list your brand if you dabble into bad practices. Stay authentic and use social media as another platform that can drive you closer to your objectives.