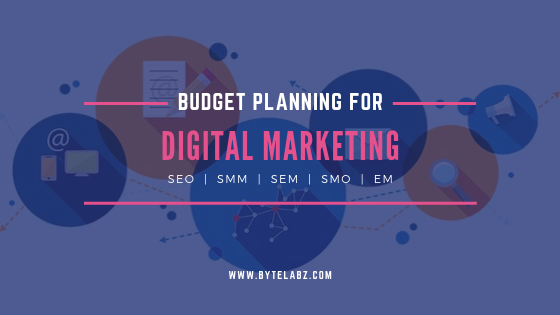 Do you plan to increase your digital marketing budget? Still looking for ideas to make your budget effective? Well, you are at the right place then.
Marketing and promotion are related to each other and they are necessary to make things work for your business. Print, TV, Posters or commercials are some of the traditional ways to promote products or create a market for them. But these days, all marketing and promotions are done online. The smart devices and applications that are available these days, which will help you to market your business and find what is going on around. These days many small, medium and large enterprises are implementing a number of new technologies and research methodologies to grow their businesses using digital efforts. The aim is to target where your audiences without focusing anywhere else.
Almost all marketers are planning to increase their budget every year. Reports state that more than 90% of organizations have increased their digital marketing budget over the years. However, allocating a marketing budget is not an easy task. Every organization needs to make sure that its efforts in digital marketing are maintained specifically across the brand and its goals, and not anything else.
Here are some tips to help you plan a digital marketing budget:
How do you Allocate Your Budget?
It is important to allocate your budget in the right way. Set your goals based on your ideas on which of these strategies would work and eliminate the non-working ones. The focus should be on converting lesser money into more success.
There is a need to cut out on things that do not contribute to your strategies. The decision to allocate your money to a specific strategy should be based on the value generated by it. The best example is of social media which does not cost initially for you to create an account on social media and to post on it. It requires constant analysis and research to find out the audiences of your interest that are active across social media networking sites, such as Instagram and once done then it is important to raise your social media budget.
There are unending possibilities that your social media account can bring to your campaign. A few resources invested in this medium can bring you so much of profit, then with continuous investment, think of how effective it could get.
You would have to plan to invest your social media budget on the one platform or account that has a better conversion percentage of advertising cost of sale because sometimes, it happens that a particular social media network begins to underperform while another one becomes strong. Hence, in that case instead of focusing on something that doesn't get your results plan on something that would bring you results. A lot of research goes into understanding the requirement of your audience.
How do you Define Your Goals?
Thinking about the digital marketing strategies and its implementation is the next step once you have your goals defined and laid out Software and manpower are two of the main resources that can help you accomplish your digital marketing goals. You need to plan out the resources you will need to fulfill these goals.
Think of it in terms of whether you want to allocate dedicated manpower or technology for each process and plan your budget accordingly such that you have placed them in your strategy. If you would like to dedicate staff or technology for social media marketing, plan the number of staff members you will need to handle social media.
If you want your tools to be really efficient – then you would need to spend a lot of money on it. For single-member investment would be less but as a team, it will increase.
In order to allocate a dedicated resource, it would be similar to creating a calendar and then ensuring that someone handles the posts on time. In-Depth analytics needs to be applied to make sure that your team is doing their job right while also finding out what works and what does not.
What Are My Goals?
A clear cut idea of your goals is required while you are planning on your digital marketing budget. Do not end up allocating budget for unnecessary things. Experimenting with something that will surely work is required instead of looking for what might work.
You need to be clear of what you want to achieve –
Do you want to enhance your brand's visibility?
Do you want to increase the revenue?
Do you want to increase the engagement of your clients/customers?
Do you want an increase in the number of your clients/customers/followers?
Each of your business goals is important – so how and where you start is important. Make sure you implement ideas that will help you to achieve your digital marketing goals, which are directly related to your business goals.
Set your aim in such a way that by the end of it, you are accomplishing and getting what you wanted. This could be either a single outcome or short-term goals, based on your business' requirements.
Planning Your Content
It is one of the most important aspects of any digital marketing strategies. The content you require depends and varies from business to business.
Hence, based on your business, its needs and goals, it is important to decide the type of content that you create. Create articles and blog posts that are in-depth, and make sure these become an important part of the marketing goals. These should be in-sync with service-related industries and here, you would find that consumers are looking for detailed information before they arrive at a decision. Here, your budget should be allocated for writing experts who will help you to write related content.
Sometimes, rather than just text content, certain businesses might benefit from video content as well. Though content is involved, it is a different side of the content spectrum that would need a variety of skill sets different from that of text content. So you would need to think of budget in terms of recording equipment, editing equipment, writers and even presenters in case you are seeking external agencies, vloggers or professionals' help to accomplish this.
Where Are You Going to Publish this Content?
You need to know where you would market your business. Website, social media, blogs and various other factors need to be taken into consideration before you finally decide where you would allocate your budget. To have clarity of the platform is as important as any other aspect of your business.
The platform where you will publish your content can be decided based on your business, consumer or target audience and the market you focus on. For a B2B enterprise, your audiences would be from the management level. Your content would be centered more for consumption in office – accessed may be using a desktop or laptop device. This could be content that would appear across articles or even on websites.
If your business is more of retail or B2C focused, then the content that you develop should be something that connects with the people who would be accessing these through devices, such as personal computers, phones or tablets.
Your content would be posted on social media in the form of images or videos. Your budget can be adjusted accordingly.
Paid Advertising
You can think of investing in something like paid advertising where you could allocate your budget for digital marketing strategies. Depending on how much your overall budget is or how much you'd be ready to spend you can start planning your budget. It is important to think of what are the factors that would influence your target audiences and based on these factors you can split your budget between Google Adwords and other social media advertisement campaigns.
Social media ads mainly target social media networking sites, such as Instagram, Twitter, LinkedIn, Facebook and anywhere where your audience is active. With Google Adwords ads, you can include search ads that will drive your customers' attention or remarketing ads that will remind them of your brand's name.
Email Marketing
Email marketing is a major way of influencing consumers' minds. You can always use email marketing as one of those important methods that would keep moving leads to your sales channel.
A number of email marketing strategies can be implemented but is important to introduce the one that actually works. Email marketing would need you to invest some budget.
Sending accurate follow-up emails are necessary to introduce consistency instead of email pop-ups and copy mails. A number of factors should be taken into account such as the size of your business and its target customers, etc. hence in the process, you should be able to decide how much you can allocate for your email strategy in the digital marketing budget.
Search Engine Optimization budget
Your search engine optimization (SEO) is an important part which should not be ignored in the digital marketing budget. It is important to make sure that your website is able to attract consumers. Your content should be strong enough to attract search engines and people to your website. When you invest certain budget and time on SEO, there are all chances that your words and voice would reach the right customers at some point in time. So it is also important to have an effective SEO strategy for your business.
Every industry has different needs and every strategy needs to be improvised accordingly. So it is important to do your research well before you start allocating budget for your digital marketing plans.
Bytelabz Software Solutions is a renowned web design and web development agency in Trivandrum, Kerala. Our service includes web design, web development, SEO and digital marketing services will help to take your businesses to grow in the online world to the next level. For further information, please contact us today.