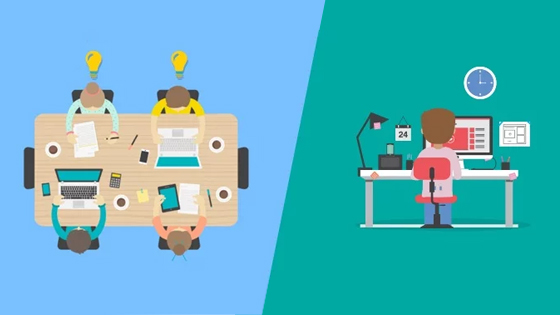 If we want a website for our business then first we think about how we choose the right option for us. We don't like to waste lots of time on this. so we hire a web design company or freelance web designers. Which one is better?
Every company needs a website. The website is an asset to a company. It is the hallmark of a business. Companies spend lots of time and money on it. So before taking a decision you have to think twice. Must consider the pros and cons of both of them. Anyway, a freelancer has certain skill sets.
Let us discuss the pros and cons of freelance web designers and web designing companies.
Freelance Web Designer
Who is a freelance web designer? Maybe he is working in Webdesign and development company and doing freelance work when he gets time otherwise he may be a full-time freelance worker. The main advantage of hiring a freelance web designer is they are cheaper than reputed web designing company. Freelancers work for themselves so you can pretty much contact them with questions at any hour of any day and you'll likely get a response within an hour. You are always getting top-notch customer service. Freelancer is a one-person firm so you don't need to explain your website ideas again and again. A freelancer usually works whenever required. The flexibility of a schedule is the main advantage if a client and a developer are situated in different time zones.
There are also lots of disadvantages. The main con of a freelancer is risk is high. A freelancer is a single person, if his workload is huge then he might escape at any time. You never know when he decided to quit from your project. Freelancers may have problems with tike management and organization. So handling them is pretty peculiar and risky. Freelancers are only interested in their own profit and success, not yours.
A freelancer is a single person so he has some limitations. website development is not a single process. It's more complicated than you think. This process consists of several stages of web design, web development, scripting, content creation, search engine optimization and more. After all, when a person is doing all things alone, the quality of the final product may not be as good as you think. Most of them are not provides any future support. If any support you want in the future they did not provide that without paying. Nowadays the market is full of freelancers. Pick from them a professional freelancer is highly difficult.
Webdesign and Development Company
A web development company gives you a whole team of highly skilled professionals in different fields. They provide teamwork. Companies are providing a full cycle of high-quality services over the long term. From the consulting to the technical support of the project you can rely on your partner in everything. Most of the companies give you full time and future support. If anything you needed in the future they provide it without any hesitation.
We can trust them completely. Reputed Pvt Ltd companies as a legal business entity. They are ready to provide you with the list of documents you would want to take a look at to make sure they are reliable partners.
The main disadvantage of them is their cost. But the service they offer is not worth that price.
Conclusion
whatever else we discuss its needs to be concluded. There is a no doubt freelancer is an expert one but they are their own limitations. Web development company would be the best choice when it is about the development of the website.