The very existence of Social media came into being with the popularity of a website and app which we know as Facebook. Since then social media has forayed deep into our lives with countless apps and websites playing a major role in our daily lives. The time spent on the smartphone by an average human is increasing with their penetration into our lifestyle. Here the role of social media in digital marketing becomes a dominant factor in influencing consumer behavior.
With its growing influence over the years, Facebook is undoubtedly the king of the social media channel. In recent years it is estimated to have more than 1 billion users across the globe with 2.4 million active users just in India! With proper targeting and approach, you can easily reach your target audiences.
To obtain the same crowd, there is little sense paying more on radio advertising, TV advertising, posters or other traditional marketing methods. You have to do business, and you need to reach them in proper hands! The power of marketing through Facebook is high. Facebook ads profit from being one of the cheapest types of ads. One can spend 5 dollars and achieve around a thousand visits on an average to your page or website.
Audience: As explained above one can utilize millions of audiences out there who are active on Facebook. Since it's a vast market to build the business and that grows the leads and business. So all you have to do is to focus on such people.
Facebook Opportunity: Facebook gives a laser target which means that you can target those people, who are being fit into this field.
You don't have to be the next multinational or a conglomerate to start an ad on this field. You can begin ads with a very modest amount so you don't have to pay significant amounts for ads to reach your audience! Facebook is an excellent social media application to achieve targets.
Re-Marketing: Once your ad starts running you can use Facebook search analytics to understand the response and scan your responsive audience. Showing such ads to the people who are already connected with you is re-marketing.
Facebook for business marketing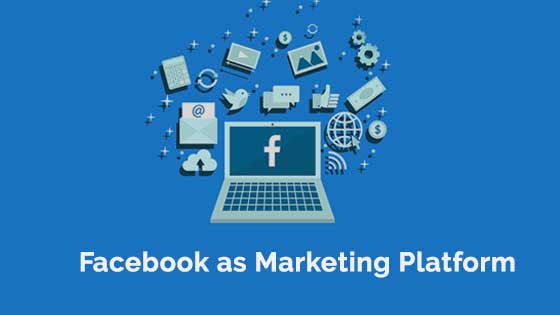 Focus yourself on generating leads through Facebook. It can be a leader through email, basic information or phone number. Personally, it can be a leader through email. Once connected you can re-market them as explained above. That is how interesting connections are converted into regular customers or users.
Generate sales through Facebook. You have to target the right audience. Find the correct leads and convert them to sales. Use your customer to get some lookalike audience, so that you can increase the sales.
Warm your audience! Some people are in the state of cold that they don't try to buy any products. You can warm such customers through appealing ads or exclusive offers to make them buy the products.
Re-marketing is very important. You can easily re-market with the activities you have like turning on the website, Facebook, Instagram, etc. By doing the re-marketing, you can quickly get more and more leads.
You can be able to build a custom audience or a lookalike based on it that makes the business to get more reach.
Power of Re-Marketing
The customer needs to watch the advertisement almost seven times to make any placement!
If the customer sees your ads, the chance of branding and reach should be high. After you search a product on a site you can find the same or related ads on your Facebook page also. That is how Facebook gets access to your Google Chrome search and vice versa. Even if you close that page and while you open the facebook you can still see the ads coming up. You get influenced by buying that product while you see them frequently.
Follow with your people, based on their hobbies and areas of interest and brand them properly so that once they close the site it should get visible on their following pages.
The cold audience must be warmed up and polished to buy the product. Take all the audience who visited your site and show them the ad on facebook. You are warming the cold audience based on the parameters when they visited your blog. In their minds, they may be looking for a digital marketing course or digital marketing institute or Digital Marketing Career, etc. and that is why they were searching for it. Hence you need to discuss their needs and warm them accordingly.
Segment list based on people who genuinely get interested in your product and start showing ads on the customized base. Boost the permanent audience to buy the products.
Cost should be less compared to other things for re-marketing. We can put them in the form of a tunnel.
1. Top one: Cold audience were we put more budgets 60-70%
2. Middle funnel: Warm audience were we set budgets of 20-30%
3. Bottom Funnel: Conversion; Business happens
To Whom You Can Market?
The people who are in your mail list, website visitors, any ad liked audience, any person who wanted, shared or subscribed. So tracking such customers accurately to make business leads is possible.
Although marketing on social media platforms is comparatively easier and cost-effective than traditional channels, it should not be considered a child's play. Most people and enterprises make the mistake of casually executing Facebook ads without the help of a digital marketing professional. You need to do proper in-depth analysis and research your customer base and their buying patterns and behavior in order to get the desired results. You need to follow the steps described above else your campaign will look like just another ad cropping up on the social media pages of your potential customers and soon you will drain out your digital marketing budget without getting any desired results. A final word of advice- Campaign wisely to earn well!
Find here some tips for social media marketing.
Are you searching for a facebook marketing partner for your business?? we will help you with your business growth. Bytelabz Software solution is a prominent web design and web development company in Trivandrum. We also offering all types of online marketing solutions for your business to take the next level. Our services include SEO, SMM, SEM, PPC, Email Marketing, Content Marketing, etc. We are no.1 website design company offering all kinds of web design services at affordable prices to our clients worldwide. For further information, please contact us today.